Regular price
$109.99
Sale price
$109.99
2 months supply of 3 strong repair & rebuild aminos in perfect ratios
NEW! 240 capsules instead of 120! That's 2 month's supply!
LA Muscle's Pharma Grade Branch Chain Amino Acids, 311 BCAAs, are specifically designed to aid recovery post-workout. This incredible supplement contains THE BEST 3 muscle building and recovery amino acids in the perfect ratios resulting in guaranteed noticeable results in strength, muscle recovery and muscle building.
➤
3 Critical Amino Acids in Exact Ratios
➤
Powerful Formula for Muscle Recovery
➤
Great Muscle Building Supplement After Training
➤
TWO MONTHS supply
Amino acids for muscle mass and speedy recovery
Branch Chain Amino Acids are scientifically proven to reduce muscle damage as a result of exercise (1). LA Muscle Branch Chain Amino Acids 311 BCAAs contain the 3 most important amino acids for muscle building and muscle recovery. 311 BCAAs contain Leucine, Isoleucine and Valine in the exact ratios as shown in scientific studies to build muscle recovery.

BCAAs taken in any other ratio other than 3-1-1, will not work to aid recovery or build muscle. You may get other Branch Chain Amino Acid formulas which have just thrown in amino acids for good measure. Only the 3-1-1 ratio has proven to dramatically aid muscle recovery and muscle growth. This ratio stimulates increased protein synthesis meaning you are not at risk of muscle breakdown (catabolism), which can often happen especially when dieting and calories are restricted.

Optimal times to take LA Muscle's 311 BCAAs are inbetween meals and intra-workout. LA Muscle guarantees noticeable and fast results from this scientific formula. This is THE BCAA FORMULA for guaranteed results.

Recent research heavily favours the benefits of leucine supplementation between meals (leucine pulsing). This dramatically increases protein synthesis and leads to muscle growth.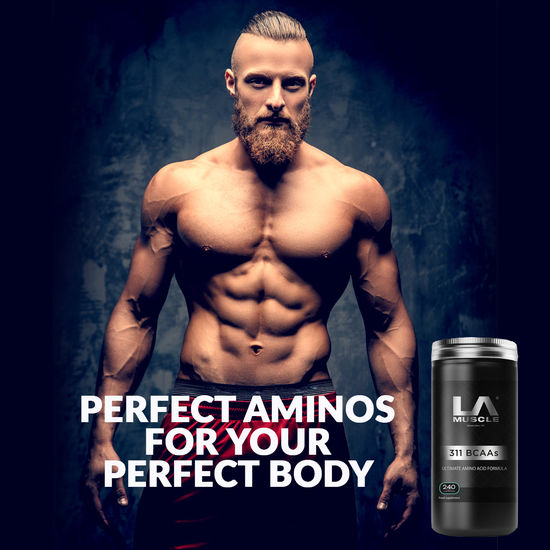 LA Muscle's 311 BCAAs is recommended by Men's Health Magazine.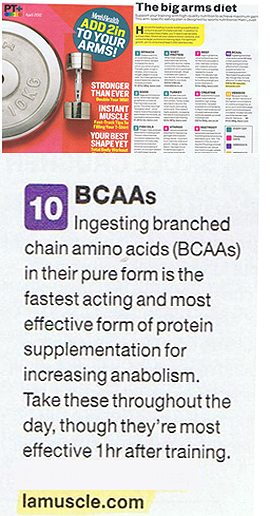 Product Science
(1) J Sports Med Phys Fitness. 2000 Sep;40(3):240-6.

Castell LM, Poortmans JR, Leclercq R, Brasseur M, Duchateau I, Newsholme EA. Some aspects of the acute phase response after a marathon race, and the effects of glutamate supplementation. Eur. J. Appl. Physiol. Occ. Physiol 1997; 75: 47 53.
CrossRef,PubMed,Web of Science® Times Cited: 108

Blomstrand E, Ek S, Newsholme EA. Influence of ingesting a solution of branched-chain amino acids on plasma and muscle concentrations of amino acids during prolonged submaximal exercise. Nutrition 1996; 12: 485 90.
CrossRef,PubMed,ChemPort,Web of Science
Serving size
- 1 Capsule
NUTRITIONAL INFORMATION
| | |
| --- | --- |
| L-Leucine | 300mg |
| L-Isoleucine | 100mg |
| L-Valine | 100mg |
Supply: 
240 capsules.
How to take: You can take 4 capsules immediately after training. For better recovery and more muscle growth, you can also take 4 capsules just before sleep.
Each tub will last: 2 months (or less if you take more capsules).
Supplements not medicines
LA Muscle supplements are "Nutritional Supplements". They are not medicines or drugs. They do not prevent, diagnose, restore, correct or modify any physiological condition or function in human beings. They will not treat diseases; they are not medicines. If you have a medical condition, please refer to your physician. If you get "any" side effects at all, stop use and refer to your doctor immediately. Never take more than the recommended dosage. Male hormone boosters are for people over 18 and mature for their age. If in doubt about anything at all, please contact LA Muscle.
LA Muscle Tubs
In line with LA Muscle's Green Policy and reducing carbon footprint, LA Muscle is using a "ONE SIZE" tub for most supplements. This is to reduce the use of plastic tubs by having tens of different sizes for various products and having to over-manufacture plastics. As a result, you may find that in many LA Muscle supplements, the tub is much bigger than the total size of all pills. You are still getting the exact number of pills/capsules/powder you have paid for, however there will be extra space at the top, giving the impression to some people that the tub is not full. This is solely because of our commitment to reducing the need for making extra plastic tubs. LA Muscle does not use cotton wool to fill up the extra space because cotton wool can attract microbes. Your safety AND the protection of the planet are big parts of the LA Muscle ethos.
Hi... can women take the 8 a day or should it be 4 a day?
Asked by Linzi Taylor on 16th February 2019
Hi Linzi, yes you can.
LA MUSCLE
can I take 311 BCAAs with fat stripper,fat stripper intense and Sculpt
Asked by richard olive on 22nd April 2017
Hi Richard, yes you can.
LA MUSCLE
How much calories does it contain
Asked by Azhar Mahmood on 26th August 2016
Hi Azhar, they are capsules so will not contain any calories.
LA MUSCLE
Hi does 311 nortateen heavy weight 2 and limitless comes out in drug test.
Asked by Siraj Ul-Haq on 2nd February 2015
Hi Siraj, no, none of our products will as we only use 100% natural ingredients.
LA MUSCLE
I have been told to take BCAA's before, during and after a workout. Is this safe?
Asked by Stephen Anderson on 8th September 2014
Hi Stephen, We recommend taking the 311 BCAA's after training and just before bed. Take 4 capsules immediately after your workout with a glass of water and a further 4 capsules with a glass of water just before you go to bed.
LA MUSCLE
Hi do I take 311 bcas on non workout days
Asked by S Howes on 3rd August 2014
Hi, yes you should take the BCAAs every day for best results. On non-training days try 2 capsules in the morning and 2 before bed to help build and repair your muscles.
LA MUSCLE
whats the best supplement to help with elbow joint and tendon strains
Asked by mark blunden on 30th May 2014
Hi Mark, unfortunately we do not have any products that specialise in joint or tendon strain. However we do recommend 311 BCAAs to be taken post workout.
LA MUSCLE
Can BCAA's be used with testerone and creatine along with my protein shake prior workout ? whats the recommended way of taking these items before and after workouts?
Asked by ravinder singh on 13th March 2014
Hi Ravinder, yes all of those can be taken together. You would take all of them 15 minutes before you workout and both the creatine and BCAAs again after your workout.
LA MUSCLE
Does 311 BCAAs contain testerone?
Asked by Liam James on 4th February 2014
Hello Liam, No it does not. 311 BCAAs contain Leucine, Isoleucine and Valine.
LA MUSCLE
hi iam 17 years old can i take this product 311 BCAAs to bulk up?
Asked by Ali Ibrahim on 18th December 2013
Hi Ali, Yes it would be ok for you to take the BCAAs.
LA MUSCLE
Hi are these suitable 4 vegetatians
Asked by Nasir Sami on 31st October 2013
Hello, yes this is suitable for vegetarians.
LA MUSCLE
Hi let me know that mean take 4 capsules after training and take 4 capsules just befor bed all together 8 capsules a daily or only 4 capsules a daily?. Gorg
Asked by George Galea on 1st October 2013
Hi George, it is up to you but ideally 8 a day.
LA MUSCLE
Is his product save for women?
Asked by Callum Richardson on 29th September 2013
Hi Callum, yes absolutely.
LA MUSCLE
Do you need to cycle 311 BCAAs or can it be taken continuously
Asked by chris cleall on 11th September 2013
Hi Chris, you can take it continuously.
LA MUSCLE
Once a week, I have a cardio day. Do I still need to take them after?
Asked by Deborah Whenman on 17th July 2013
Hi Deborah, It is entirely up to you, however, we do recommend 311 BCAAs to be taken post workout.
LA MUSCLE
Does LA Muscle have a Multivitamin/Mineral supplement? , if not does it have a supplement the will cover this?
Asked by Mark Brooks JNR on 20th June 2013
Hi Mark, we do not currently have a multivitamin/mineral supplement.
LA MUSCLE
i know the description says to take immediately after training but the small caption says they are most effective one hour after training which is best? Thanks
Asked by Leo Forrester on 29th May 2013
Hi Leo, either will work. Most people take it immediately after.
LA MUSCLE
If you are already using the LA Whey product which has plenty of BCAA's contained within it do you really need to take this product? Thanks Jim
Asked by James Shields on 20th May 2013
Hi Jim, it does depend on how hard you are training, what your diet is like and how quickly you want to see results but the answer is a definite YES! We recommend 311 BCAAs to be taken post workout.
LA MUSCLE
Can you take this product if you are already taking Norateen 2 and Norateen Heavyweight? Thanks Jim
Asked by James Shields on 6th May 2013
Hi Jim, yes you absolutely can. Norateen and 311 BCAAs make for a perfect combination!
LA MUSCLE
The best BCAAs I have ever purchased. Already ordered another tub!
This BCAA has helped me build and recover muscles. Love it.
I use this BCAA product with a pre workout and Im so happy with the results.
Excellent product with great effects. Will recommend and purchase again.