Beautiful fresh, sophisticated, long lasting fragrance
5 out of 5 stars  (2,748 RATINGS)
Sanctum is a unique and fantastic smelling Eau de Toilette spray which comes with 2 scents in one bottle. This wonderful smelling fragrance has a masculine light primary scent followed by a secondary scent which is very long lasting to ensure that you smell good at all times which will leave your friends wondering what scent you are wearing.
➤
Incredible, fresh, premium new fragrance
➤
50 ml Eau de Toilette Spray with 2 scents in one
➤
Sport & sophistication in one bottle
➤
Fresh & long lasting scent
"Incredible" is the only word suitable to describe Sanctum. This is no half-measure just to say LA Muscle has an Eau de Toilette. Sanctum is right up there with some of the top fragrances in the world and that is not said lightly. This amazing new fragrance has taken 2 years to develop in conjunction with 2 perfume houses, one of them in France.

The scent of Sanctum is fresh, sporty, yet sophisticated and premium. Sanctum has a delicious masculine yet light primary scent, followed by a magnificent secondary scent that lasts and lasts. The problem with most fragrances is that a) they don't last, b) they have a terrible soapy secondary smell and/or c) they turn sour.

Sanctum has been developed and tested to be suited to sportsmen who take their sport seriously, as well as those that want a unique, premium cologne that is both individual and yet appealing to the masses. Scents and smells are very personal things and difficult to get right for all. LA Muscle believe Sanctum is one of the best men's premium colognes in the world. You don't have to take LA Muscle's word for it. If you are already a customer or fan, you will not doubt know that LA Muscle do not do things by halves, so feel confident in the LA Muscle brand and order your bottle of Sanctum today. 

You have to try Sanctum. You will not believe how incredible, individual, unique and long-lasting this Eau de Toilette is.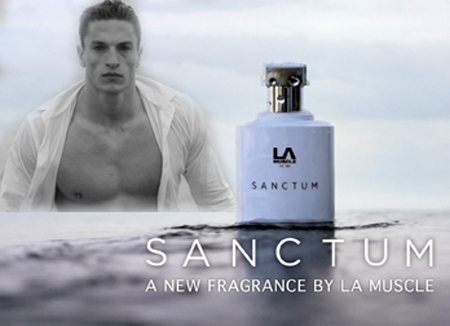 Would a woman find this scent attractive on me? ☺
Asked by kishor mohammad on 27th November 2015
The women will love it Kishor!
LA MUSCLE
Great fragrance nice smell
Even the kids say it smells nice so must be OK.fresh smell as well.i like it
Brilliant long lasting freshness. Great for when you just exit the the gym