Regular price
$69.99
Sale price
$69.99
Rapid action, proprietary formula
5 out of 5 stars  (29 RATINGS)
Rapid Skin Whitener by LA Muscle is a proprietary cream lotion that works on all skin types for noticeable results within days. Comes with LA Muscle's 100% money back guarantee.
➤
26% lighter skin in up to 8 weeks
➤
Massive 500ml easy-pump tub
➤
Advanced clinically proven & 100% guaranteed
➤
Quickly exfoliates top skin layer
LA Muscle's amazing Rapid Action Skin Whitener is an exclusive product with a proprietary formula that works on all skin types, whitening and bringing out the skin's natural glow within days. The main function of LA Muscle's Rapid Skin Whitener and why it is so superior and unrivalled is that it uses natural ingredients to replace melanin-filled (dark) cells with melanin-reduced (lighter) cells.

Sodium Phytate from Rice Bran reduces the melanin synthesis in the newly emerging epidermis of the skin and it inhibits the Tyrosinase enzyme activity, reducing darkness.
➤

Sodium Phytate from Rice Bran reduces the melanin synthesis in the newly emerging epidermis of the skin and it inhibits the Tyrosinase enzyme activity, reducing darkness.


➤

Sodium Phytate also stimulates the natural exfoliation (skin peeling) on the skin's surface, meaning darker cells are shed faster.


➤

Calcium ions, which are involved in the cohesion of the dead stratum corneum, get bound, leading to the destabilization of cell-to-cell adhesion accelerating the natural exfoliation of dead melanin-filled corneocytes. This gets rid of old darker skin cells fast and brings out the natural lighter glow of the skin.


➤

Morus Alba Fruit Extract from the White Mulberry comprises multiple bioactive substances which are involved in the reduction of melanin synthesis mostly as inhibitors of the Tyrosinase activity. This reduces skin darkness.


In vivo tests using the above ingredients (Sodium Phytate & Morus alba Fruit Extract), over a period of 4-8 weeks, the tests showed an increase in ITA° value of 25.6% (~21.5% higher than the placebo control product)

ITA ° value represents the lightness of skin, so the higher the value, the lighter skin is.

LA Muscle's Rapid Skin Whitener is not a fad or gimmick. It really works on skin and will lighten it, if used over a period of time. The results are very noticeable and the product comes with THE BEST genuine, hassle-free money back guarantee on the market. If you want to buy a skin whitener, don't waste your money on untested or cheaper alternatives. Buy the best from LA Muscle and if you don't love it or find that it didn't work for you, send it back for a full refund (even if you have used all of it!). You have nothing to lose. Order now as this is a limited run product and stocks will run low soon..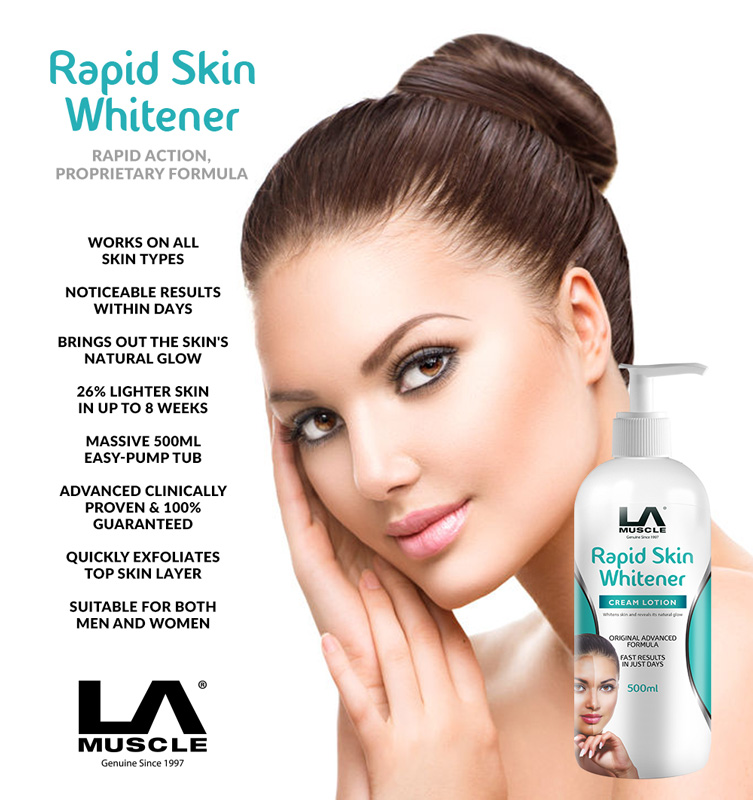 Aqua, Helianthus annuus Seed Oil, Cetearyl Alcohol, Glyceryl Stearate, Glycerin, Caprylic/Capric Triglyceride, Vitis vinifera Seed Oil, Sodium Phytate, Benzyl Alcohol, Sucrose Stearate, Sodium Stearoyl Glutamate, Sodium Benzoate, Xanthan Gum, Coco-Glucoside, Simmondsia chinensis Seed Oil, Coconut Alcohol, Tocopherol, Dehydroacetic Acid, Aloe barbadensis Leaf Juice Powder, Morus alba Fruit Extract, Citric Acid.
Apply twice a day to skin. Avoid getting in the eyes. Wash hands thoroughly after use. If you get any side effect at all, please consult your doctor immediately.


how long does it take for your skin to whiten
Asked by Javed akhtar on 16th June 2019
Hi Javed, it is gradual and you will see a difference month to month
LA MUSCLE
Hi, is this suitable for both men & women? Is the skin whitening permanent or will it need re-applying at some point? And can you use it around private areas or can it be used anywhere?
Asked by Noorul Haque on 29th September 2016
Hi Noorul, all of our products are suitable for both men and women and can be applied to all areas of skin desired. Maintenance will be required.
LA MUSCLE
It's nice and smoothie, texture
The marks have almost faded on my face. It does make skin a little red for a short time, but not for long . Its the best i have tried so far.
I'd recommend using this to anyone that's been on spray tan , or sunbeds a little to long etc, with fast delivery. LA Muscle is always worth a go.