Product image 1
Product image 2
Product image 3
Product image 4
Product image 5
Product image 6
Regular price
$99.99
Sale price
$99.99
Powerful Testo Booster powered by rare herb Dioscorea Deltoidea
Testosterone is regulated in the human body by the pituitary gland and is synthesized from the cholesterol in the body. Exercise, diet and nutrition all play important roles in enhancing testosterone levels in the body. LA Muscle has further refined the 100% natural Testosterone Booster II, testosterone boosting supplement based on Dioscorea Deltoidea, a rare plant found only in the Himalayan mountains at altitudes of 1,800m to 3,100m. The plant contains an average of 4.8% diosgenin, an anabolic saponin structurally similar to an anabolic called dehydroepiandrosterone. A recent study into Diosgenin by Ritsumeikan University in Japan found a direct link between diosgenin supplementation and increased muscular steroidogenesis.
➤
World's only Dioscorea Deltoidea Testo formula
➤
Promotes higher levels of Testosterone and Growth Factor
➤
Promotes strength and muscle building
➤
Promotes improvement in Cognitive functions
➤
Promotes Growth of Lean Muscle Mass
➤
 Limited supply available, unpredictable weather conditions in remote location makes supply uncertain, 
One of the best ways to increase testosterone levels is to ensure the human body is in the best position to boost testosterone levels. Exercise, nutrition and diet all play important roles in achieving this. To help, LA Muscle has developed Testosterone Booster II, a testosterone boosting supplement that makes it easy to ensure your nutrition is on point.

Many years of research and experience has led us to develop Testerone Booster II. This is a 100% natural testosterone boosting supplement that is made entirely from pharmaceutical-grade Dioscorea Deltoidea. This plant is a species of herb from the Dioscoreaceae family. Found in the forests and humus-rich soils of Kashmir and the Himalayans, this plant only survives at altitudes between 1,700m and 3,100m.

Locally known as 'Nepal Yam', the plant is extremely rare in the wild and has been revered by indigenous people. Traditionally, the juice of the root tubers of the plant have been associated with amazing results. Whilst results vary by strain, the roots of the plant have been found to contain an average of 4.8% diosgenin.

Diosgenin is known as an anabolic saponin, structurally similar to an anabolic called dehydroepiandrosterone, produced by the adrenal glands and brain. Saponins have been shown by research play a role in the stimulation of growth factor from the pituitary gland (Shim et al., 2008). A study in 2014 by Ritsumeikan University in Japan shown a link in mammals between diosgenin and increased muscular steroidogenesis.

Signs of Low Testosterone Levels
Have you been suffering from low testosterone levels? Have you noticed one of the common side effects associated with low testosterone levels? Whilst a blood test is the best way to find out for sure, the symptoms can include:

Low sex drive or libido
Hair loss
Fatigue
Loss of muscle mass
Increased body fat
Decreased bone mass
Mood swings
Memory or cognitive decline
Low blood counts
At LA Muscle we believe in nature. Plants and herbs are the source of many compounds used in modern medicine. Penicillin is found in Penicillium mold. Aspirin comes from Willow bark. Codeine from Papaver Somniferum poppies, the list is endless.

Many years ago whilst researching testosterone boosters, we discovered a rare and unique plant from the Dioscoreaceae family. Colloquially known as 'Nepal Yam', the plant's scientific name is Dioscorea Deltoidea. This plant is only found in the wild at specific altitudes in the Himalayan mountain range. It has been used by the locally indigenous population for generations. The plant is only found at altitudes that range from 1.8km to 3.1km.

How will Testosterone Booster 2 help me?

The diosgenin that is found in Dioscorea Deltoidea has many effects on the human body other than promoting testosterone production. One placebo-controlled, randomized, double-blind crossover study of healthy adults was conducted by researchers in 2017. The study found that it enhances cognitive functions such as memory recall. The beneficial results were found to be most significant in in participants over 47 years of age.

Increases in testosterone levels in the body have been associated with improved sexual performance, increased libido and increased muscle building and strength. The first Testosterone Booster formula using Dioscorea Deltoidea was in high demand and sold out in a very short time. The feedback we got was overwhelmingly positive. This, however is an ingredient that is only found in remote locations at very high altitudes. This makes availability and supply vulnerable to external factors like harvest conditions, weather etc..

Testosterone Booster 2 Production Process
After several years of research, we have undertaken extensive efforts to find the highest-quality suppliers. We were successful in sourcing a sustainable and 100% organic crop of Dioscorea Deltoidea. This enables us to bring an even more refined blend to maximize the potential effects of boosting testosterone levels.

Dioscorea Deltoidea is an expensive herb to source and refine. This is particularly true when it comes to refining it to pharmaceutical-grade standards. Testosterone boosting supplements that are based on Dioscorea Deltoidea are rare because of the difficulties in sourcing it. The remote geographic location contributes to making this an extremely expensive ingredient to include.

LA Muscle managed to secure a full crop of Dioscorea Deltoidea and it has been manufactured at Pharmaceutical Grade into the new Testosterone Booster II formula. This limited run of our Testosterone Booster II is available on a first come first served basis and has already met with incredible levels of demand. Our Testosterone Booster II supplement helps to promote:
Enhanced levels of Testosterone.
Enhanced levels of Growth Factor.
Enhanced strength and muscle building.
Improvements in Cognitive function and memory recall.
Growth of Lean Muscle Mass
You may notice other effects such as increased aggression and/or confidence levels in and out of the gym. This is natural with increases in testosterone levels in the body.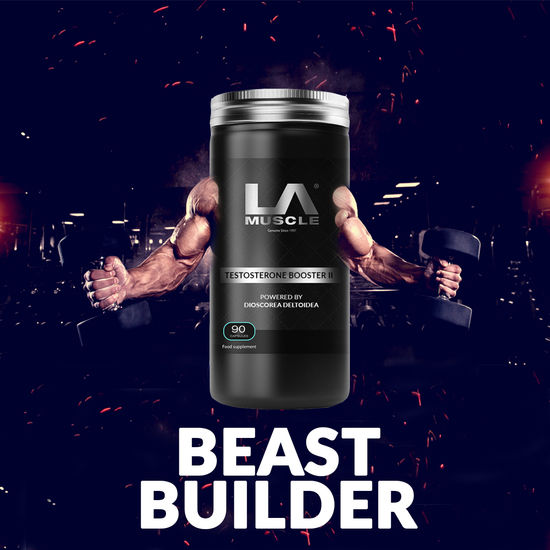 PLEASE NOTE: Testosterone Booster II may not be here for long due to stock supply limitations and crop uncertainty. Buy your supply now to avoid disappointment. You cannot get this incredible supplement anywhere else at this or even at lower grade.
Serving size
- 1 Capsule
Servings Per Container Size
- 1 Capsule
NUTRITIONAL INFORMATION (Per Serving)
| | |
| --- | --- |
| Plantago Psyllium (Psyllium Husk) | 100mg |
| Choline Bitartrate | 100mg |
| Medicago Sativa (Alfalfa Leaf) | 50mg |
| Peppermint Leaf Extract 4:1 | 20mg |
| Fennel Seed Extract 4:1 | 20mg |
| Licorice Root Extract 4:1 | 20mg |
| Ginger Root Extract 5:1 | 20mg |
| Stinging Nettle Root Extract 4:1 | 20mg |
| Aloe Extract 200:1 | 20mg |
| Maltodextrin Powder | |
| Magnesium Stearate | |
Take 1 capsule daily with a glass of water. Some people prefer to take this supplement at night. Try and see what works best for you.
Supplements not medicines
LA Muscle supplements are "Nutritional Supplements". They are not medicines or drugs. They do not prevent, diagnose, restore, correct or modify any physiological condition or function in human beings. They will not treat diseases; they are not medicines. If you have a medical condition, please refer to your physician. If you get "any" side effects at all, stop use and refer to your doctor immediately. Never take more than the recommended dosage. Male hormone boosters are for people over 18 and mature for their age. If in doubt about anything at all, please contact LA Muscle.
LA Muscle Tubs
In line with LA Muscle's Green Policy and reducing carbon footprint, LA Muscle is using a "ONE SIZE" tub for most supplements. This is to reduce the use of plastic tubs by having tens of different sizes for various products and having to over-manufacture plastics. As a result, you may find that in many LA Muscle supplements, the tub is much bigger than the total size of all pills. You are still getting the exact number of pills/capsules/powder you have paid for, however there will be extra space at the top, giving the impression to some people that the tub is not full. This is solely because of our commitment to reducing the need for making extra plastic tubs. LA Muscle does not use cotton wool to fill up the extra space because cotton wool can attract microbes. Your safety AND the protection of the planet are big parts of the LA Muscle ethos.
How often and when should woman take testosterone
Asked by LELLO GISONNI on 12th November 2018
Hi Lello, women can take it whenever they need help to add lean muscle. It should be taken on a 2 month off, 1 month on cycle for best results.
LA MUSCLE
Do you need an estrogen blocker if taking this product?
Asked by John Reid on 2nd November 2018
Hi John, it could help speed up results.
LA MUSCLE
Will this product work on a 65 year old? I am training 5 days per week.
Asked by John Reid on 2nd November 2018
Hi John, yes it will.
LA MUSCLE
Will this help burn fat
Asked by Craig king on 29th May 2018
Hi Craig, no this is a testo booster so will help build lean muscle faster.
LA MUSCLE
Can you stack Test Booster 2 with Norateen Extreme?
Asked by Keith Moyse on 2nd October 2017
Hi Keith, yes you can.
LA MUSCLE
Hello, I'm trying Testosterone Booster II with testo 250 for a 2 month cycle; could you suggest me how to take them for best results on training days and on no training days. After two month could be enough a week break and then start again ? Thank you.
Asked by Poma Marc\'Aurelio on 29th September 2017
Hi Poma, we recommend taking the products according to the directions on their tubs for best results. This includes taking them daily in the recommended dosages. The cycle recommend is 2 months on, 1 month off.
LA MUSCLE
Can you take with vasculator
Asked by Aleem Irshad on 11th September 2017
Hi Aleem, yes you can.
LA MUSCLE
I tried this for 2 cycles and made great gains in strength and muscle size while shedding about 8-9 pounds.
Works very well, is one of the best boosters I have used.
Great Product. been using it for a week and am getting great results in the gym!
My lifts felt stronger, and overall I felt the boost. It's hard to describe but this seems to work