Powerful Testo Booster powered by rare herb Dioscorea
5 out of 5 stars  (10,220 RATINGS)
A very rare and exclusive Testosterone booster made with the world's only Pharmaceutical Grade Dioscorea Deltoidea. LA Muscle is the only company to give you this incredible Testosterone Boosting herb in this rare formula. This herb is hard to find. Read more below.
➤
World's only Dioscorea Deltoidea Testo formula
➤
Very rare and unique ingredient
➤
 Limited supply available
The first Testosterone Boosting formula using Dioscorea Deltoidea sold out in a few short weeks and it has taken several years to bring you a new one! The reason for this is that Dioscorea Deltoidea is an EXTREMELY rare herb, grown only in a very specific region of the Himalayas and the crop is very much seasonal and dependent on the weather and various factors.

Dioscorea Deltoidea is an expensive herb and to get it right and to Pharmaceutical levels costs money. This is why you do not see other supplements companies manufacturing such a rare and exclusive supplement. The good news for you is that LA Muscle managed to secure a full crop of Dioscorea Deltoidea and it has been manufactured at Pharmaceutical Grade into the new Testosterone Booster II formula.

If you are looking for a truly unique and powerful muscle and strength building formula, you need to try Testosterone Booster II. Now is the time because LA Muscle cannot guarantee the constant supply of this rare supplement and it has been a long process to get you this first batch of Testosterone Booster II.

What you will gain from this exclusive formula is:
➤

Incredible boost in your strength within 1 day


➤

Much more aggression and confidence in and out of the gym


➤

Serious increase in muscle size, usually within a week


➤

 Increase in the all-important Testosterone and Growth Hormone levels


➤

More muscle hardness


➤

You will see yourself leaner within 1-2 weeks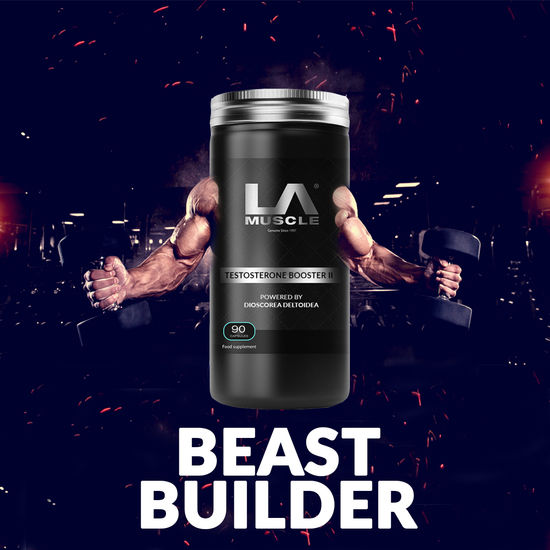 PLEASE NOTE: Testosterone Booster II may not be here for long due to stock supply limitations and crop uncertainty. Buy your supply now to avoid disappointment. You cannot get this incredible supplement anywhere else at this or even at lower grade.
Serving size
- 1 Capsule
Servings Per Container Size
- 1 Capsule
NUTRITIONAL INFORMATION (Per Serving)
| | |
| --- | --- |
| Plantago Psyllium (Psyllium Husk) | 100mg |
| Choline Bitartrate | 100mg |
| Medicago Sativa (Alfalfa Leaf) | 50mg |
| Peppermint Leaf Extract 4:1 | 20mg |
| Fennel Seed Extract 4:1 | 20mg |
| Licorice Root Extract 4:1 | 20mg |
| Ginger Root Extract 5:1 | 20mg |
| Stinging Nettle Root Extract 4:1 | 20mg |
| Aloe Extract 200:1 | 20mg |
| Maltodextrin Powder | |
| Magnesium Stearate | |
Take 1 capsule daily with a glass of water. Some people prefer to take this supplement at night. Try and see what works best for you.
* Please note: LA Muscle supplements are "Nutritional Supplements". They are not medicines or drugs. They do not prevent, diagnose, restore, correct or modify any physiological condition or function in human beings. They will not treat diseases; they are not medicines. If you have a medical condition, please refer to your physician. If you get "any" side effects at all, stop use and refer to your doctor immediately. Never take more than the recommended dosage. Male hormone boosters are for people over 18 and mature for their age. If in doubt about anything at all, please contact LA Muscle
How often and when should woman take testosterone
Asked by LELLO GISONNI on 12th November 2018
Hi Lello, women can take it whenever they need help to add lean muscle. It should be taken on a 2 month off, 1 month on cycle for best results.
LA MUSCLE
Do you need an estrogen blocker if taking this product?
Asked by John Reid on 2nd November 2018
Hi John, it could help speed up results.
LA MUSCLE
Will this product work on a 65 year old? I am training 5 days per week.
Asked by John Reid on 2nd November 2018
Hi John, yes it will.
LA MUSCLE
Will this help burn fat
Asked by Craig king on 29th May 2018
Hi Craig, no this is a testo booster so will help build lean muscle faster.
LA MUSCLE
Can you stack Test Booster 2 with Norateen Extreme?
Asked by Keith Moyse on 2nd October 2017
Hi Keith, yes you can.
LA MUSCLE
Hello, I'm trying Testosterone Booster II with testo 250 for a 2 month cycle; could you suggest me how to take them for best results on training days and on no training days. After two month could be enough a week break and then start again ? Thank you.
Asked by Poma Marc\'Aurelio on 29th September 2017
Hi Poma, we recommend taking the products according to the directions on their tubs for best results. This includes taking them daily in the recommended dosages. The cycle recommend is 2 months on, 1 month off.
LA MUSCLE
Can you take with vasculator
Asked by Aleem Irshad on 11th September 2017
Hi Aleem, yes you can.
LA MUSCLE